Dental Implants
Why would you have a dental implant?
If you having missing teeth, Implants are a fantastic solution as you are not putting other teeth at risk to support the missing teeth. You can either have fixed restorations such as crowns and bridges that fix on top of the implants, or a removable denture that clicks into place over the implants. Having implants greatly improves the quality of your life if you are struggling with large spaces, or have a denture that is not retentive or stable. Implants can improve the look of your smile and regain confidence and function.
What is a dental Implant?
A dental implant very simply is a titanium screw that is placed in either the upper or lower jaw bone.
It serves as the tooth root where either fixed non removable replacement teeth or a removable appliance can be added on top.
There is no doubt that Implants are the best replacement option for missing teeth and they are the closest thing to getting back a natural tooth.
Although alternative treatment options to replace missing teeth such as bridges and dentures can be carried out, they are less stable and have higher maintenance costs. Therefore they will need to be replaced much sooner.
A major disadvantage of having bridge restorations is that teeth either side of the missing tooth have to be filed down, which could lead to problems with these teeth in the future.
Taking cost effectiveness into mind then, studies into Implants have shown having an implant is less expensive in the long term and that they do not involve restoration of any kind to adjacent teeth, which of course is a great benefit!
With the correct aftercare, an implant can last 30 years +, proving that implants are not only the more comfortable, reliable, functional and attractive option; they are indeed the best investment you will ever make in your quality of life.
Having an Implant with us
We pride ourselves in careful and detailed planning, and we have the resources and equipment in practice to make sure you are being cared for to the highest possible standard.
You're health and wellbeing is of upmost importance to us and our main goal is to give you exactly what you want, but in an ethical and non-detrimental way to your health.
We have many years' experience in placing single implants, multiple implants, denture stabilisation and full reconstruction.
We use the Straumann Implant system which is a leading implant company that provides technologically advanced, scientifically proven products that only ever get the best results.
Here are the reasons why we use Straumann to gain an exceptional results:
(From straumann.co.uk) –
More than 35 years of clinical evidence with over 700 scientific publications1
More than 14 million implants placed worldwide
Precision and quality "Made in Switzerland"
A trusted brand in over 70 countries
SLActive® – Our unique implant surface for better predictability and shorter healing times
Roxolid® – Our unique material for less invasive treatment options
Lifetime guarantee for your Straumann implants
Our Dental Implants Programme include at no extra charge:
Full consultation and Planning
X-rays / OPG
Implant Placement
Intra-venous sedation (if desired)
Teeth whitening
Final restoration (Crown/Bridge work)
Follow up & maintenance programme
Your Implant Journey
Stage 1: Initial Implant Consultation

Here at Oak Tree we have qualified and experienced implant nurses that can provide you with information on dental implants, who will listen to your questions and show you videos and images that can make what seems like complicated information easy to take in.

The advantage of this is that you gain knowledge at no financial cost to yourself whilst enabling you to decide if implants are right for you. Should you feel that having dental Implants are not right for you, then you have been provided with the information enabling you to reach that conclusion at no financial cost. However, if you feel that implants are right for you, then an appointment with Dr Swinscoe for an implant consultation is worthwhile undertaking at a cost of £150 for a lengthy appointment or appointments. Information regarding all aspects of the treatment is discussed in fine detail.

Depending on the complexity of the case, Dr Swinscoe may book you in for further consultation appointments to discuss your case further. This will aid us in moving forward to the planning stage as we want to provide the type of implant treatment you have chosen. Please see the restorative phase to see how implants can be used in multiple ways for different restorations. E.g. single tooth, bridge, and denture.

Stage 2: Implant Planning

Following on from the initial consultation with Dr Swinscoe and the implant nurses/treatment co-ordinators there will be implant planning appointments.

This is a vital stage in the process and its importance cannot be underestimated as we all know that poor planning leads to poor performance, hence poor results.

The implant planning stages will include:

A full Dental examination to find out which teeth are saveable and which are not.
To assess your "smile line" E.g. what will be usually seen by others and you in the mirror.
Your expectations and requirements.
Available room for implants, Occlusal Vertical Dimension – space between upper and lower jaw when biting together.
A full Medical history will be taken so as we are aware of any complications that may affect your Implant treatment.

X-Rays – These are used to assess bone height and to a degree, your bone density. Location of vital structures and nerves, high or low sinus, cystic or other pathologies destroying bone. Status of teeth and gingival/periodontal health.

A 3D/CT scan can be arranged if required.

Study models – this allows us to study your mouth whilst you're not at the practice.

Surgical guide production

Once we know where implants are required an impression is taken allowing a surgical guide to be produced.
This is the drilling template to allow the implant dentist to place the implants in the correct location and angle.

Temporary replacements:

You will never be left without a replacement should you want one.
This will either be a temporary denture or bridgework.

Hygienist visit

Good oral hygiene is required to prevent the loss of dental implants via Perioimplantitis.
The hygienist will clean your teeth to provide a cleaner bacterial environment for implant surgery to be undertaken. Reducing post-operative infections.
The hygienist will provide you with oral hygiene instructions before and after implant treatment, so your investment is protected via your new improved oral hygiene regime.
The hygienist will also prophy-jet your teeth to remove all staining. This will allow the free dental whitening to reach all surfaces and be fully effective.

Tooth Whitening is provided for free to suitable cases. You should be aware that whitening gel cannot whiten porcelain crowns, Veneers, turn amalgam silver fillings white.

We use a safe whitening system that causes no damage to your teeth or gums. The great thing about the home whitening system is that you are in control of the degree of whitening up to the maximum possible to achieve.

Photographs of your case.

Many patients love having a copy of these on a CD to show friends/family or simply to look back at their transformation and smile!

We use these photos for website or in practice to show other patients during the initial implant consultation. No names are shown and only photos of your teeth can be seen.

Sedation

Nervous or anxious patients may choose to have sedation for the Implant placement procedure free of charge. To see more information about Sedation with us, please click here.

Diagnostic wax up

- This may be produced depending on the aesthetic component/complexity of your dental implant "link" case.

It is important to note that before your Implant Placement appointment, you will have one more appointment arranged with us for a final check to ensure we have everything we need to proceed with your implant journey.

Stage 3: Implant Placement

This is where all the planning of your case come to fruition. You will by this point be totally aware and fully informed about the necessary treatment that will be performed on this day, to get the results you desire. Antibiotics for all patients will be provided one hour before we start with the implant placement procedure. We will of course

Should you be having sedation on this appointment, your trusted companion and escort will be involved in your aftercare.

The implants are placed in a sterile environment and detailed post-operative instructions and antibiotics are given as well as an informative chat about how things went during the procedure. The surgical implant placement may involve a 'Sinus lift' procedure, or Bone Grafting.

As with any surgery you have performed, there are always risks involved and vital structures or nerves to be aware of. It is no different for placing dental implants.

The most common nerves and structures we have to plan our implant placements around are the:

Mental nerve, Inferior Alveolar nerve (in the lower jaw) and the Naso Palatine nerve, and Schneiderian membrane/sinus floor (Upper Jaw).

Your implant dentist will at length and detail make you aware of any risks to your procedure and will answer any questions you may have before the day of the implant placement arrives.

The range of materials we use when doing bone grafting is vital to the success of the treatment as they are of high quality and therefore result in better healing when combined with good patient aftercare. We use a number of various types of bone materials in our implant placement procedures, each one being specific or beneficial for the needs of the case. When we use bone or membrane materials that have been derived from an animal i.e- pig or cow, you will be informed of this before surgery so if any issues or personal preferences are made clear before. In most cases, we use a pericardial membrane which is the very strong membrane that surrounds a pig's heart.

We use single filament sutures which are non-dissolvable for these reasons:

Does not allow Bacteria invasion and reduces the risk of infection.
Speeds up the healing process.
Non-resorbable stitches so that they will not fall out at an inappropriate time.
Gives the implant dentist the decision on when best to remove sutures.

You will be provided with an emergency mobile contact number for the Implant dentist should you feel worried or concerned. Most patients rarely use this emergency phone number but it's nice to have it just in case and provides patents with peace of mind.

Once you have left the practice it is important that you go home and rest even if you feel absolutely fine. The next few days after the procedure has been carried out will be when you may experience swelling, bruising and discomfort. We advise you alleviate any post- operative discomfort with over the counter painkillers and anti-inflammatories. After Implant placement, we will closely monitor your healing over time and this may include multiple visits.

During these visits where your healing is being closely monitored, Dr Swinscoe will inform you on when it is advisable to start the 'Restoration' phase. This stage can begin in most cases, three months after the Implant Placement, but can sometimes be as a little as one/two months on from Implant placement.

The Restoration stage is where we make progress in making either your crowns, Bridges or Implant retained Denture.

Stage 4: Aftercare and maintenance phase

After the Implant/s have been placed it's really important that you look after yourself. We recommend that you do not exert yourself/engage in physical sports until the surgical area has fully closed over. We ask that you follow our post-operative instructions carefully, they are given in full detail on the day of placement. If you are having Sedation 'link', we will go through aftercare before the implants are placed and your escort will also be informed of how to look after you. If you have any questions or concerns about aftercare, you can contact the emergency mobile number that will be given to you and we will arrange to see you.

Once healing has fully occurred and the implants have been restored, our maintenance programme involves regular examinations and visits with the Hygienist to ensure correct cleaning of your implants, and the rest of your teeth.

Most problems, if any, occur within the first 5 years so we provide a 5 year guarantee on our implants as long as you maintain regular exams and hygienist cleans at this practice. If you have experienced complications to treatment and there are numerous factors as to why your implant placement treatment has been considered unsuccessful, your Implant dentist will either offer you a full refund of your money, or if it is possible, he will embark of trying to rectify problems and perhaps try again with treatment. He will always inform you if a problem is beyond his expertise to rectify and offer a referral to a specialist which you will fund, having had a full refund from ourselves. Despite having placed a large number of implants this has only occurred once.

You may choose to continue tooth whitening for the foreseeable future and we can provide you with new bleaching trays after your teeth has changed and we supply you with two tubes of tooth whitening gel to maintain the shade of your teeth.

Sinus Lift and Bone Grafting

Everyone's implant case is specific and individual to their needs and with this in mind, sometimes a 'Sinus lift' is needed to place implants where the proximity to the sinus floor is close. A sinus lift is only performed in relation to placing upper back jaw implants.

This is usually performed when there has been a loss or drop in bone levels due to periodontal disease or tooth loss, and the sinus floor sweeps down into where we would like best to place an implant.

A number of different techniques can be performed to raise the sinus floor and place bone into this area and your dentist/Implantologist will inform you of the best technique specific to your case. They will also inform you of the bone materials used specific to your case.

Usually once a Sinus Lift is carried out successfully, we can then place the Implant in the jaw bone in the same surgery procedure, limiting the amount of time you need to go through surgery. However, in some cases we prefer to leave the bone that we have placed in the sinus area to integrate for anything from 4-12 months before we place the implant.

Although during the surgery there is minimal discomfort, patients find post operatively there is some soreness, which is to be expected, and sometimes bruising and swelling.

If you do not require a 'sinus life', you may still require bone grafting in the area we are placing the implant/s. We always provide you with details of all materials used if bone grafting is required.

We have a skilled Implantologist who has performed a high number of Sinus lift's for patients, successfully placing implants that last for a minimum of 30 years.

Timescale
Implant cases usually take between 4-9 months from start to completion but may differ with each individual case. It is best to get an idea from your Implant dentist on the consultation or planning appointments.
Fee's
At £2,800 for a dental implant, we are competitively priced in the local area. This price includes the Implant itself, the abutment and the crown/bridge work that fits on top. It can also include Tooth whitening before or during your Implant process. Bone grafting and having a 'Sinus Lift' can be added treatment costs and depends on the amount that is needed and materials needed.
You will be informed of the total cost of your Implant treatment and all associated treatments during your implant planning stage and a consent form signed to say you agree to such costs.
-Please note the price above is subject to the number of teeth being replaced and how many implants are used to gain stability, function, and aesthetics. Please see our Fees Link for more information.
Your total cost of treatment is taken in stages (usually taken over 6 stages) but we do ask that payment is settled by the end of your treatment.
An appointment with one of our qualified implant nurses to discuss Implants and your specific needs is free of charge.
A clinical Implant consultation with Dr Jonathan Swinscoe is £150, and if you go ahead with implant treatment, this will be deducted off of the total cost of your case.
Booking an Appointment with us:
You can book yourself in to come and talk to one of our fully qualified implant nurses for a free no obligation chat, where you can find out more about Implants and tell us your story. We use visual aids to take you through your journey and make things more clear. The qualified implant nurses can also provide you with extra take-home leaflets on the Straumann Implant system, so you know exactly what you will be getting for your money and read about the facts and science behind the Straumann Implant system.
If you are seriously interested in having an implant with us, we can book you a clinical implant consultation with our implant clinician and principle dentist Dr Jonathan Swinscoe. This is £150 and will be deducted off of the total price of your treatment if you should decide to go ahead with the implant treatment.
Our dedicated Treatment Co-ordinators will be there every step of your journey and are available to answer any questions or worries you may have along the way.
Our Guarantee to you
The Straumann Implant system offers you a lifetime guarantee on their implants and supporting products should you need any replacement parts, and Oak Tree Dental offers you a 5 year guarantee, providing you maintain regular check-up appointments and hygiene therapy here with us.
Ultimately we're here for your journey, every step of the way.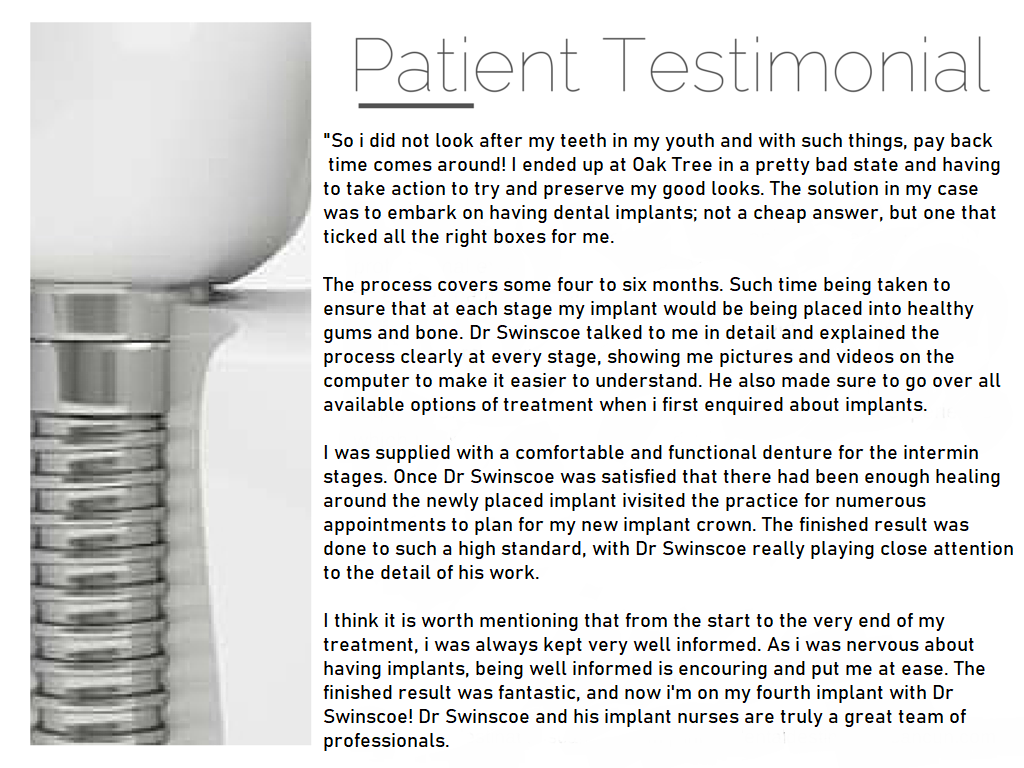 FAQ's:
Q: Is the surgery to place a dental implant painful?
A: No, Implants are placed under anaesthesia so the surgery shouldn't be painful.
Q: What can I expect after the anaesthesia wears off? Do I need time off from work commitments?
A: Generally you can expect some minor discomfort, but that can be managed with anti-inflammatory medication such as ibuprofen and paracetamol or similar medication in prescription strength. You may want a few days to rest after your implant has been placed.
Q: What about eating after implant surgery? And can I eat before surgery?
A: It is better to have something light and nutritious before surgery to keep blood sugar levels up. After the placement is complete, It is important to avoid exposing any recent surgical site in the mouth to sharp or hard foods if possible. A good rule of thumb is to eat soft, nutritious foods and keep well hydrated. Your dentist will instruct you on how to care for your new implants during healing.
Q: How long does healing and construction of the replacement teeth (implant crowns) take?
A: Healing is different for everyone, and factors such as age, medication and how well a patient looks after themselves and follows instruction after the Implant placement all come into play. Usually, a week of healing see's the patient making good progress. Usually it takes 3 months of healing and for the bone to fuse to the Implant in the jaw before we start to build the tooth up.
Q: How long do dental implants last?
A: Once a dental implant has fused to the bone and it has been considered successful and is functional in your mouth, an Implant can last up to 20 years, giving it the best life-span of any restoration.
Q: Are dental implants expensive?
A: Expense is always relative to the individual. The key fact to remember is that they have the longest time-span and they are the highest quality restoration you can have to replace a tooth/teeth. They are a more expensive replacement option because it is very involved and there are a lot of visits!
Q: Do you offer a payment plan?
A: Here at Oak Tree, we take payments in increment stages so you're never hit with a costly bill right at the end of treatment. As your dental bill may differ with the amount of implants you have, it is best to speak to your dentist so you have an idea of how much you will be paying at each stage of treatment.